AdGone takes an approach on maximizing privacy and eliminating ALL ads. We don't pick and choose which ads are considered acceptable to show. Only you have the control to allow ads on specific websites. We also provide priority support for our customers and are constantly making improvements to our product.
Tired of browsing the web and seeing unwanted ads on every website? With AdGone you will see a substantial reduction in the ads you are exposed to online and get faster load speeds when visiting websites.
Typically, the best ad blockers, like AdGone, will remove the ads before your computer even loads them rather than covering them up. This adds an extra layer of security while you browse, while speeding up page load times because your computer isn't having to load and inject ads into the pages you view.
There are two different ways to start/stop blocking for a specific website:
Right click anywhere on the page you wish to change your blocking preferences for and click 'Disable (or Enable) AdBlocking on this site.

Click on the AdGone icon in the upper right corner of the browser:

Switch the toggle on the action window and you are done!
Our "Lifetime" subscription product means you can access the AdGone Ad Blocker product and services that you purchased, for as long as they're available and supported by us.
Right click on the AdGone icon in the upper right corner of the browser: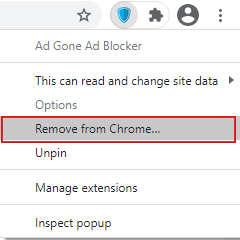 Click "Remove from Chrome"
AdGone is designed to be safe to install and free from any form of malware, but keep in mind that the official browser extension stores and our website are generally the safest places to get AdGone. If you install AdGone from anywhere else, it may contain malware that can infect your computer.
It is most likely hidden. To bring the icon back follow these steps:
Step 1: Click on the puzzle icon at the right top corner.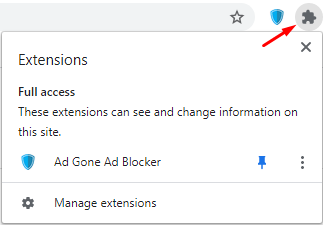 Step 2: Click on the pin symbol next to AdGone to pin it to browser tool bar.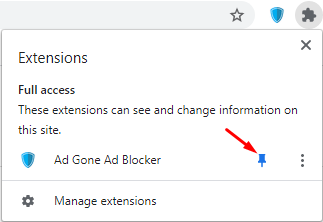 If above steps are not resolving the issue, please try to reinstall AdGone Ad Blocker by following this link.
When you install AdGone for the first time, AdGone will request some permissions to operate within your browser. It will look something like this: "AdGone can read, modify, and transmit content from all web pages." Although the exact wording depends on which browser you use, the warnings all sound a little scary. That is because it's important to be careful with your browser permissions! You should be aware of what your browser extensions can do.
Ad blockers work by:
Blocking a web page's requests to download ads from the servers that host them
Hiding any ads that can't be blocked
To do that, the extension needs to:
See every page you open so that AdGone can run on every page you visit. This also means that AdGone knows the URL of every page you visit.
See all the data on the page to find any unblocked ads among the other content. This also means that AdGone can see any forms you submit and your browsing history on that tab
Change the data on the page by adding some HTML, CSS, and JavaScript code to the page to hide unblocked ads
It's important to know that just because AdGone can see everything on a web page, it doesn't mean it actually does anything with it. The extension does not record your browsing history, capture your passwords or bank account numbers, or secretly collect or change data you submit on a web form.
We do not target or sell any of the data we collect, personally identifiable or not. Tracking and selling user data goes against everything we stand for here at AdGone. For more information, we encourage you to review our privacy practices.
AdGone Ad Blocker works in the background without interrupting your internet life. Most obvious sign it operates as intended is that you are no longer seeing ads and the websites you visit feel faster. You can also review number of ads blocked and data/time saved from not loading ads by opening the AdGone action window. To do that, click on AdGone icon in the upper right corner of the browser: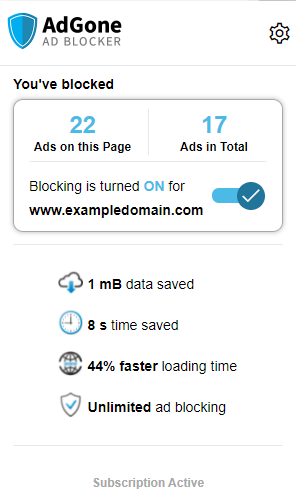 This indicates that your trial has ended, or subscription has expired. Please click on the AdGone icon and then press "Upgrade" to renew or acquire AdGone license.
Currently AdGone is available on Google Chrome. Versions for Firefox and Edge are coming soon!
The most common reason for ads to be not blocked is because a website was accidentally "whitelisted" to show ads. If you experience issues, please open the AdGone action window by clicking on AdGone icon in the top right corner of the browser. You may have to first open "extensions" dialog by clicking on the puzzle-like icon.
If the status bar is green and you still see the ads, please click "Report an issue on this page" and our team of experts will retest the impacted website.
You can also submit a help desk ticket by clicking "Get Help".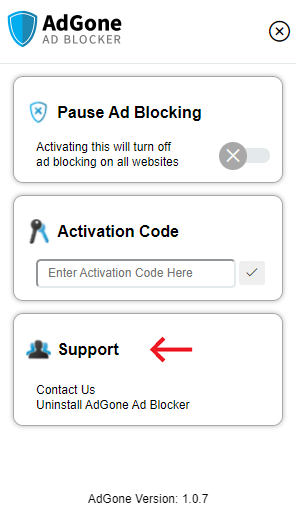 Is AdGone malfunctioning? Please submit a support request here and we will get back to you asap. Our developers take pride in building the quality product and will handle any problem promptly. We have thoroughly tested AdGone on hundreds upon hundreds of popular websites. However, Internet technology is evolving, and we could have missed some new or rare issues.
AdGone offers free trials and is also a paid product that requires a license. Occasionally we may offer free extended trials or limited functionality versions. Please check our site often!
License duration varies from 1 month to 1 year depending on the option you selected at purchase.
You can securely perform the transaction using Visa, Mastercard, American Express, Discover, Banking Account or a Paypal account. Some other payment methods are accepted as well.
An AdGone license can be used on up to 5 computers. However, paid users can sync their Chrome browsers and use the same license on all of your Chrome browsers when you login with your Google account.
If you are not satisfied with Premium version of AdGone Ad Blocker purchased directly from https://adgone.org/, contact us via our support page within 30 days of your purchase to receive a refund.
Refunds requested more than 30 days after your initial purchase date will not be issued unless the transaction was subject to a fraudulent purchase.
The refund should appear on your credit card statement within 48 hours after our email of confirmation. Upon receiving your refund, you must uninstall or stop using any software products for which you no longer possess a valid, purchased license.
AdGone reserves the right to disable any product keys and/or serial numbers issued to you for the refunded products.
You can cancel your subscription at any time. In the license email you will find a "manage subscription" link. Using that link you can cancel the subscription. You can find the email by searching your inbox for "Your AdGone Ad Blocker license". You can also send a request to cancel your subscription to our support team here.
You will recieve an email after purchase that contains your product license key. Forwarding or printing the email for your loved ones will give them everything they need to get started with AdGone.